About Us
About the U.S. DOT ITS Standards Program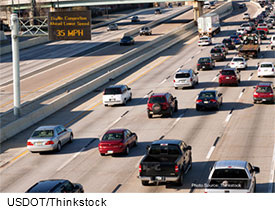 The U.S. DOT established the ITS Standards Program in 1996 to encourage the widespread use of ITS technologies in our Nation's surface transportation systems. ITS standards exist within technologies deployed under the framework of the National ITS Reference Architecture, also known as "ARC-IT" and define how system components interconnect and interact. Because ITS standards are based on open, non-proprietary technology, their use can facilitate the deployment of interoperable ITS systems, and make it easier for state and local ITS deployers to develop and deploy regionally integrated transportation systems.
The ITS Standards Program is teaming with standards development organizations (SDOs) to accelerate the development and testing of nearly 100, consensus-based, ITS standards while working with state and local highway and transit agencies on standards-based ITS implementation strategies.
ITS standards are developed by technical consultants and public sector transportation professionals in SDO standards working groups. To date, 99 standards have been published and are ready to use in ITS deployments. Several published standards, such as NTCIP 1203 (the standard used in Dynamic Message Signs deployments), are in their second version.
The ITS Standards Program's current activities include connected vehicle standards, short-term intermodal research, and standards that support earlier ITS research programs. Learn more.