About Us
Key Program Activities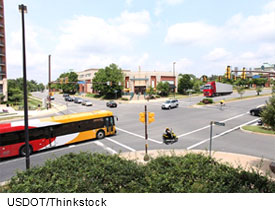 The ITS Standards Program undertakes a range of activities:
Developing standards – through cooperative agreements with SDOs—for both existing ITS technologies and for connected vehicle applications. The program is also active in international efforts to harmonize ITS standards and architecture in order to increase commonality of connected vehicle technologies across multiple regions.
Testing standards in actual transportation settings (through field testing by state and local transportation agencies).
Providing technical assistance to state and local ITS deployers (through ITS Specialists at FHWA Resource Centers and through the ITS Field Support Team.
Delivering ITS standards training and workshops (through training programs offered by the Institute of Transportation Engineers and the ITS Professional Capacity Building Program).
Developing experience-based deployment guidance and tools such as lessons learned.
Providing up-to-date information about ITS standards development, testing, deployment, and training activities (through the ITS Standards Program website).